Click Here for April 12, 2021 Meeting Notice
Click Here for Feasibility Analysis RFP Public Notice
Click Here for Feasibility Analysis RFP
Click Here for Feasibility Analysis RFP – Addendum 1
Scheduling a Ride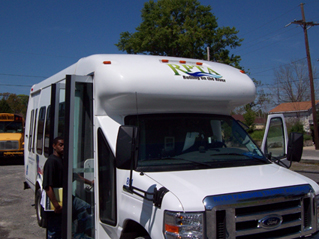 Passengers may call the local office number 985-651-1141 to schedule a ride. Contact the office during normal work hours 8:30 am to 4:30 pm Monday through Friday. Speak to a dispatcher who will assist callers in scheduling a trip. Due to the limited number of vehicles, RPTA passengers must call at least 24 hours in advance to schedule a ride. RPTA is encouraging the public to schedule non-work related trips between 9:00 a.m. and 3:30 p.m. This will help the RPTA increase efficiency in transporting persons to and from job sites during early morning and late afternoon hours.
Reasonable Modifications/Special Accommodations for Handicapped Persons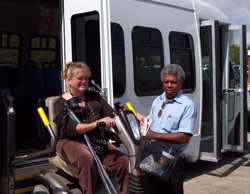 The driver of each vehicle will assist the boarding and unboarding of wheelchair passengers in operating the lift, securing the wheelchair and depositing fares. No fare will be assessed to a personal care attendant (PCA) who is traveling with an eligible elderly and/or disabled person who cannot ride by themselves. Persons scheduling such a trip must let the dispatcher know that the PCA will be riding, too.
This Program has been funded through the St. Charles, St. John the Baptist and St. James Parish Governments, the Federal Transit Administration, the Louisiana Department of Transportation and Development, a Federal Highway Administration Grant to the South Central Planning and Development Commission and through a generous grant from the United Way of St. Charles.
ADA Complaint Form
Civil Rights
The River Parishes Transit Authority (RPTA) is committed to Equal Employment Opportunity (EEO) for all persons, regardless of race, color, creed, national origin, sex, age or disability.
The River Parishes Transit Authority hereby gives public notice of its policy to uphold and assure full compliance with Title VI of the Civil Rights Act of 1964 and all related acts and statutes. Title VI and related statutes prohibiting discrimination in Federally assisted programs require that no person in the United States of America shall, on the grounds of race, color, national origin, sex, age, or disability be excluded from the participation in, be denied the benefits of, or be otherwise subjected to discrimination under any program or activity receiving Federal assistance.
Any person who believes they have been aggrieved by an unlawful discriminatory practice regarding RPTA services has a right to file a formal complaint with the RPTA. Any such complaint must be in writing and submitted to the RPTA in care of Civil Rights, River Parishes Transit Authority, P.O. Box 2444, LaPlace, LA 70068, within one hundred eighty (180) days following the date of the alleged occurrence.
For more information regarding civil rights complaints, please select RPTA Title VI Complaint Procedure and RPTA Title VI Complaint Form or contact:
River Parishes Transit Authority
P.O. Box 2444
LaPlace, LA 70068
(985) 651-1148